Urine testing is a commonly used method to detect the presence of cannabis, or weed, in the body. Taking one hit of weed may not seem like a big deal, but it can still be detected within the body. Whether you are preparing for a drug screening or trying to detox from weed, understanding what to expect from this type of testing is essential.
In this article, we will discuss the effects of weed, how your body processes THC, and how long one hit of weed can stay in your system.
What is Weed?
Weed, also referred to as cannabis, marijuana, pot, or dope, comes from the dried leaves, stems, and seeds of the cannabis plant. Weed contains over 100 mind-altering compounds that contribute to the feeling of being "high." This feeling of euphoria and relaxation is what marijuana users are trying to achieve when using weed.
Weed can be used in a variety of ways. The most common ways can include:
Smoked: Smoking weed is one of the most common ways to use the drug. It can be smoked in joints, which are similar to cigarettes, in blunts, similar to cigars, or in pipes, such as bongs. Some users also inhale an oil concentrate, known as dabbing, which is a highly concentrated form of THC.
Vaped: Vaping has become increasingly popular in recent years with young adults. Vaping uses an electronic device, such as a vape pen, to smoke cannabis. This way also uses the concentrated oil mentioned above.
Infused: Infusing weed into food or drinks is called edibles. This involves cooking down the substance into a form that can be incorporated into food. Some common forms of this include cakes, brownies, or tea.
The Effects of Weed
The effects of weed can vary depending on the strain, dosage, use, and the individual's tolerance. However, using weed can cause a range of psychological and physical effects. These effects can include:
Sense of relaxation
Heightened senses
Memory loss
Increased appetite
Dry mouth
Increased heart rate
While weed may still be detectable in your body, the effects of weed typically last 1 to 3 hours but can last several hours. However, this can vary depending on how the individual uses the drug. Smoking weed will allow for the effects to occur faster while consuming edibles takes longer for the effects to occur.
Read more about the long-term effects of weed use here.
How Does Your Body Process THC?
THC, also known as tetrahydrocannabinol and the active component in cannabis is absorbed by different parts of the body, such as the brain, heart, and fat tissues. It is also metabolized by the liver, resulting in the production of 11-hydroxy-THC and carboxy-THC, which are known as metabolites. Regarding eliminating THC from the body, approximately 65% is excreted through feces, while around 20% is expelled through urine. The remaining THC is stored in the body.
As time passes, the THC stored in the body is gradually released back into the bloodstream. Once in the bloodstream, it undergoes metabolism by the liver. In individuals who regularly use weed, THC accumulates in body fat tissues faster than it can be eliminated. This means that even days or weeks after using cannabis, THC can still be detected in a drug test.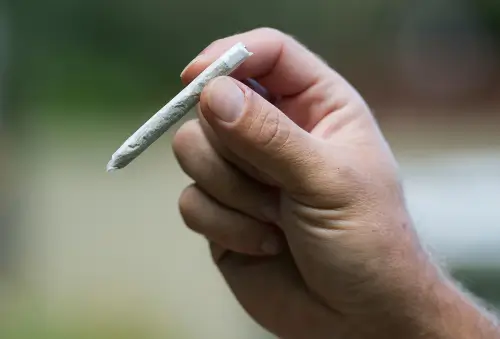 How Long Does One Hit of Weed Stay in Your System?
If you smoke weed regularly, the chances that you will test positive in a drug test are very high. However, you may be wondering if you only took one hit of a joint, will it still be detectable? No matter how much weed you use, it's still possible to detect THC levels in your system. Although this can depend on a variety of factors, including the type of test taken.
Saliva Test
A saliva test is a quick and non-invasive test that is done with a mouth swab. These types of tests can be difficult to pass due to the detection window of THC in the mouth. THC metabolites can be detected up to 24 hours after the last use.
Urine Test
As stated above, 20% of THC is expelled through urine, making it have the highest concentration of THC for the longest period of time. Urine tests are the most common type of drug test used in workplaces for random drug testing. Chronic weed users can have THC detected in their urine for up to 30 days. However, if you only had one hit of a joint, it would most likely only show up on a urinalysis for a few days.
Blood Test
Blood tests can detect weed for a short period as it rapidly leaves the bloodstream, lasting typically a few hours up to one day. After taking a hit of weed, it is most detectable within the first three hours. Because of this rapid decline in THC levels, the detection time for weed in the blood is very short, making this type of test uncommon.
Hair Follicle Test
THC metabolites can last in hair follicles for the longest amount of time, lasting as long as 90 days. However, hair tests are more reliable for testing daily users rather than an individual who took one hit.
Factors Impacting How Long Weed Stays in Your System
Alongside the type of test taken, there are other factors impacting how long weed stays in your system. It's important to note that while these factors can show how long weed can stay in your system, each individual's metabolism will react differently. These factors can include:
THC Content: The level of THC in the weed used can impact detection time. The higher amount of THC concentrations may prolong detection.
Method of Consumption: As stated previously, how weed is ingested can determine how fast it is metabolized.
Dosage and Frequency: Larger doses and the frequency of use can increase the likelihood of detection and extend the detection window.
Individual Factors: Some of the biggest factors depend on the individual using weed. The gender of the individual, hydration levels, body mass index (BMI), and genetics can all play a role in the length of detection.

Weed Addiction Treatment in Los Angeles, CA
While you may not become addicted to weed after taking one hit, it's essential to understand the consequences of using weed. Weed addiction is a real problem and can cause harmful effects throughout your life. However, treatment is available if you suspect you may be developing a weed addiction.
At Launch Centers, located in Los Angeles, CA, we offer addiction treatment and mental health services to young adults. Our addiction treatment programs focus on the individual to help our clients overcome their substance abuse. We provide our clients with comprehensive treatment therapies alongside life and career development.
If you or a loved one are experiencing addiction, substance abuse, or mental health conditions, contact us today to learn more about our programs. Launch Centers is here to provide you with the resources for recovery.